We're about a week out from release of Dying Light 2, and Techland has published this handy map showcasing release times for PC. XBox and Playstation gamers will just have to wait until Midnight, Feb. 4th in their local time, unfortunately.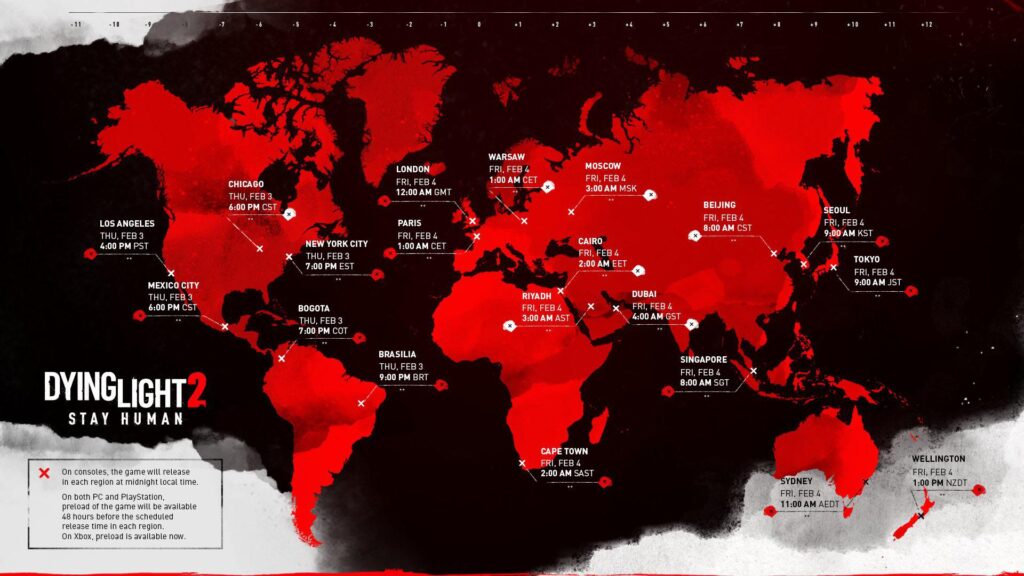 I will be live-streaming the game at release on PC (I'm in CST, so 6 PM Feb. 3rd for my fellow CST readers); I'll be sure to pre-load, but no guarantees that there won't be a patch to download right at launch. If there is, we'll just have to hang out and talk about how excited we are to finally be playing Dying Light 2.
For those of you in different time zones, I'll also probably do some streaming the next day if you want to ask me question as I play. Be sure to subscribe to the GGN YouTube channel beforehand to get notified when I go live!
Just remember: GGN is focused on stealth gameplay, so we're going to be looking pretty hard at how stealth plays out in the game rather than trying to do all sorts of crazy combat (although I'm sure I'll fail at stealth enough to get some experience there). Also, I'll be doing some quick settings tweaks for graphics and controls, as well as benchmarking if it launches with a benchmark tool.