I was excited for Dying Light 2. The parkour and stealth made me think of classic Assassin's Creed, and the world itself made me imagine Cyberpunk 2077 (or, at least, what Cyberpunk 2077 should've been). People who got to play the game early and showcase game play affirmed my thoughts overall. I felt secure in the idea that Dying Light 2 was going to be a cornerstone game for Ghost Gamer News in 2022.
Unfortunately, I was wrong.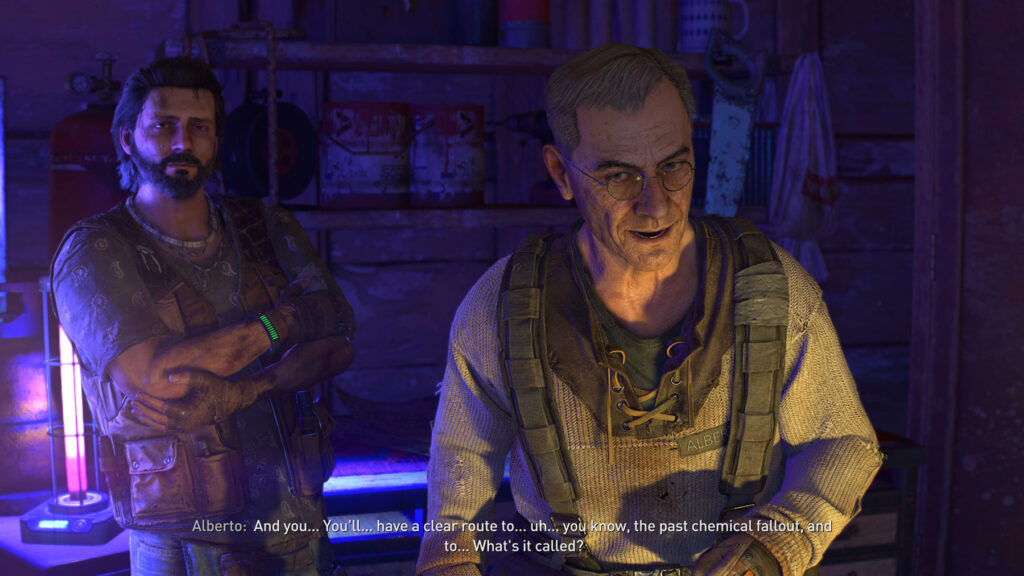 That's not to say Dying Light 2 is necessarily bad; far from it, in fact. It does, however, suffer from a misrepresentation in regards to mechanics, and an exceptionally long early game that in many ways just drags.. And then, next thing you know, you're in the final stretch of the main campaign and realizing you haven't really been playing an open world story, but a cinematic experience IN an open world, being actively discouraged to run off and do much else for long.
Dying Light 2: Stay Dramatic
There is a lot of storytelling going on in Dying Light 2; unfortunately, this story is fairly weak, but nobody expected Moby Dick (or even "Taken") here. The unfortunate part of this is how the story dictates so much in the way of actual gameplay.
I had my controls taken from me numerous times during the main story just to force some additional tension and drama. If I wasn't a fast reader of subtitles I'd imagine I would have spent countless hours going through dialog and exposition that ultimately has very little value in the actual story.
When I DID get to play the main story, it was the way the developers wanted me to play. Sure, I do have some limited choices; I can choose to support one of the 2 main factions of the game, and in a handful of situations can choose to support sub-factions within those factions (more like individuals with ulterior motives), but otherwise the game played more like an on-rails story than a true open world game. Situations where there was an obvious "big bad" literally roaring behind a door were the worst: I'd have to walk up to it, say hello, maybe knock (yes, literally knock), and then get shoved on my ass as the big bad comes out to say hello, rather than trying to lure it out and handle the encounter on my own terms.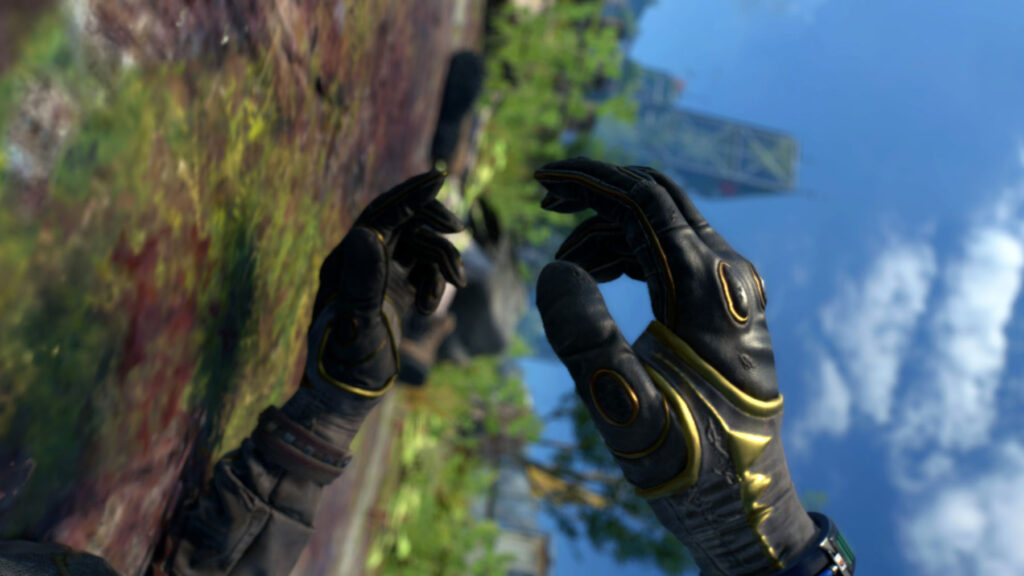 Additionally, the game itself has an exceptionally slow pace. So slow, in fact, that numerous gameplay tools are doled out much slower than you'd think. You start with your GRE key (which helps you locate that extra special loot you need to progress), and go from there to unlock the paraglider, grappling hook, a UV flashlight (that can hold back infected while the battery lasts), a GRE signal detector (which ties into later AC/Farcry-esque-yet-worse claim-the-antenna missions to help you find more loot), and even.. Ranged combat.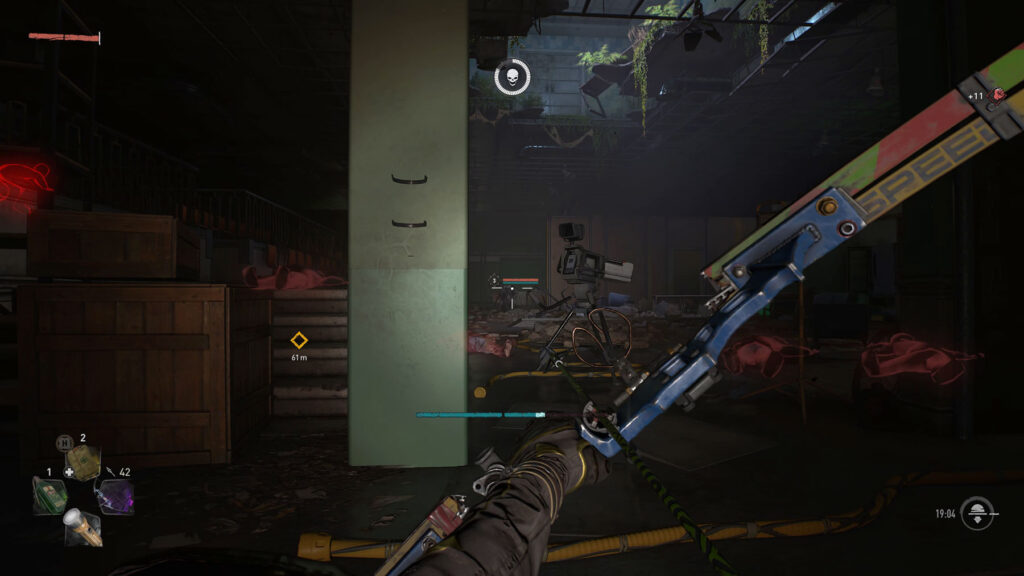 Yes, ranged combat is hidden behind story progression; you don't even get your first bow until about halfway through the main story (I got mine at around 11 hours of gameplay), and it's not even clear as to why. We'll touch on ranged combat later, though.
Speaking of unlocking stuff, the RPG mechanics are interesting, but ultimately "eh". I found myself enjoying unlocking new parkour skills, and bumping up my health & stamina had a noticeable impact in the game, but it is hard to see the value when those unlocks tend to come when you need them, and choice is rather limited.. And combat skills? "Eh".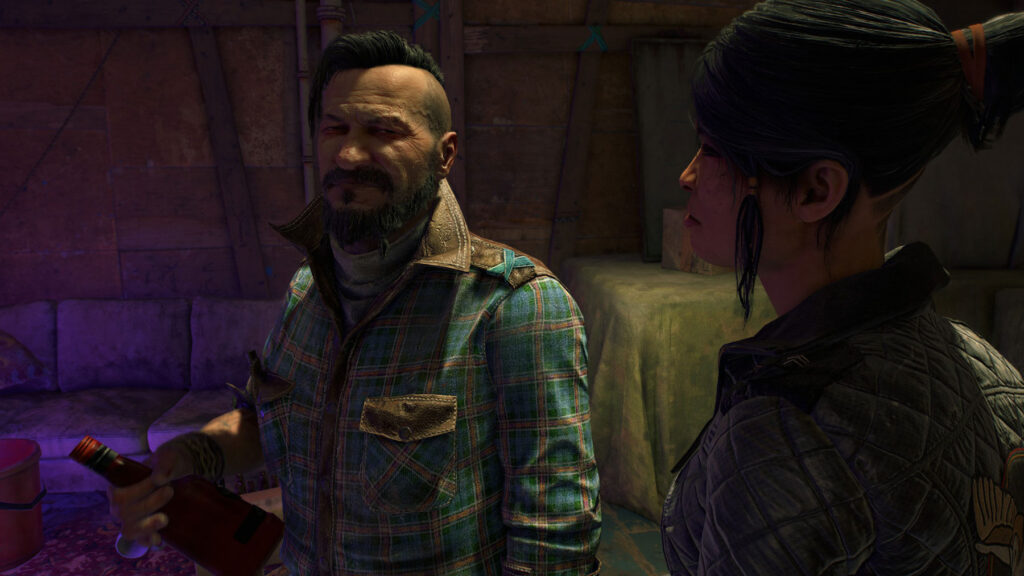 Additionally, the "classes" feature of gear is of dubious use. As someone who thrives on ranged and stealth gameplay, I opted to pursue ranger gear (which provides boost to stealth, parkour and ranged combat) once I finally unlocked my first bow.. And even with min-maxing, the actual impact of this gear is minimal. I could boost my ranged damage and slow detection time, among other random numerical stats tied to gear with various degrees of rarity and level, but it honestly felt like the value in hunting for the best gear isn't even there. It really appeared that the benefit from gear is just a minimal supplement rather than anything that will improve your game.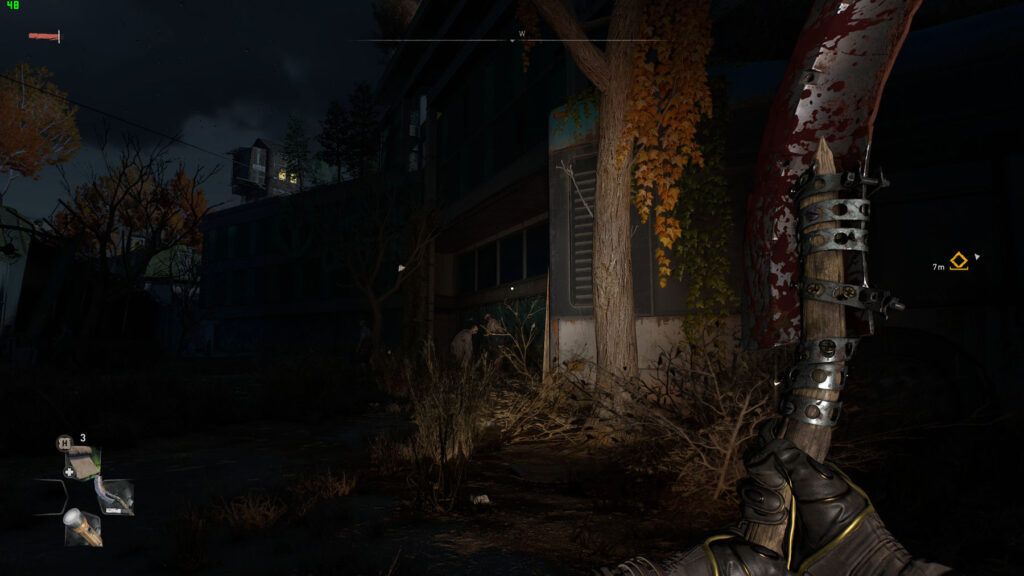 Weapons themselves are a dime a dozen, aside from the bows (and a crossbow). You basically grab whatever you can, modify it when it's durability is low (in order to get a little more life out of it), and then throw it away when you outlevel it or break it. Thankfully ranged weapons can't break.
I've spent a lot of time complaining here, but the game itself isn't all bad. Once you finally do get to explore the world, it's fun! Parkour is exciting, and even when you unlock the paraglider it still holds value as a movement mechanic (and becomes even better when you unlock the grappling hook).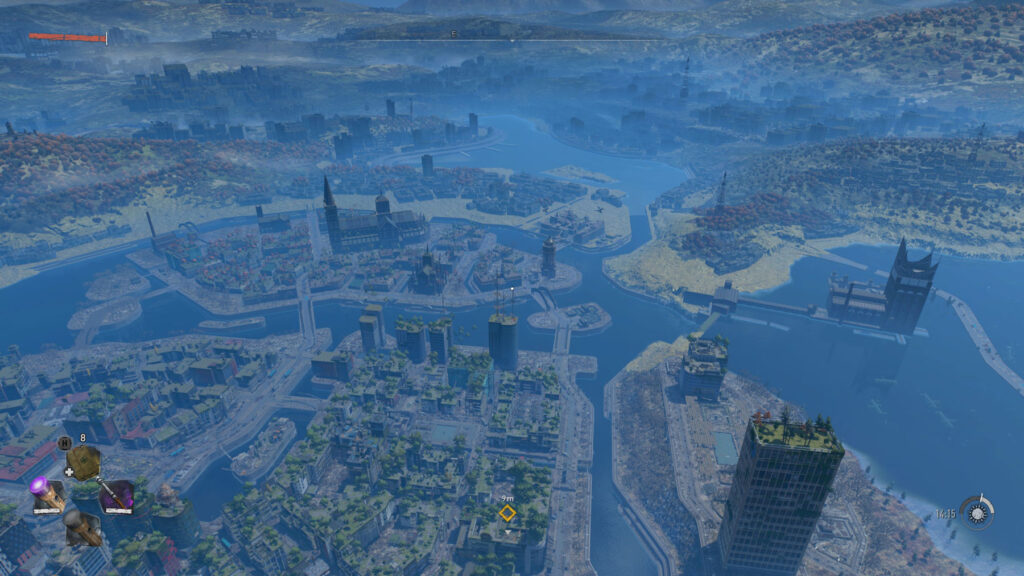 Beyond exploring, there are all the random encounters, the weight of swinging a weapon at the undead, and the tension of exploring in both the day and the night that do create a fun atmosphere.
Oh, and the elevator scene with the PKs? Beautiful and smile-inducing. Despite the story, there are some lovely bits of writing here and there.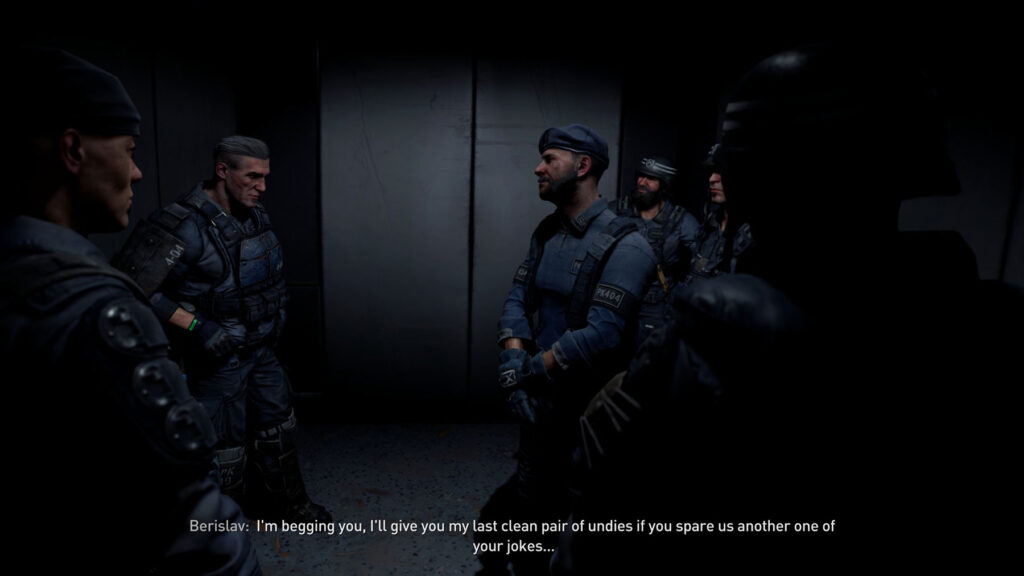 Let's set that aside, though, and talk about what GGN readership wants to know about: Stealth in Dying Light 2.
Does Dying Light 2's stealth work? .. Sorta.
So few games are even trying with stealth anymore that I am clambering for any game that even hints at having stealth mechanics. That's why I made such a big production on launch day for this game.
Unfortunately, Dying Light 2's stealth is less of a gameplay style choice and more of a mechanism used to get through certain areas of the story.. It's even less of a choice than in Assassin's Creed Valhalla, which is saying something.
When you use stealth, you'll mostly be using it to get through dramatic or impossible fights during the main story, partially clear encampments, or explore interiors at night to collect "the best loot".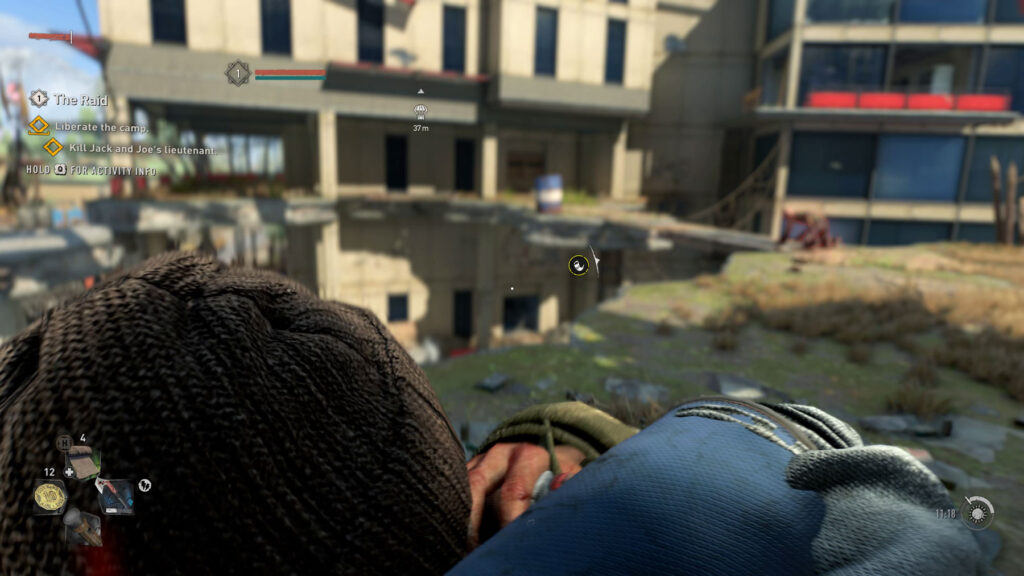 When clearing encampments, you'll be limited to essentially the tall grass. Yeah, in an urban environment with a lot of verticality you'll be clinging to tall grass like a child clings to its thread-bare teddy bear. Assuming your target is at your level or below you, you'll even be able to do a stealthy takedown (just try to do it where the body won't be discovered).
Bosses themselves can't be taken down stealthily, though. Whether undead or not, if a foe is classified as a boss (mini or otherwise), they have to be fought in a traditional sense, and you can't even land a stealthy attack to soften them up.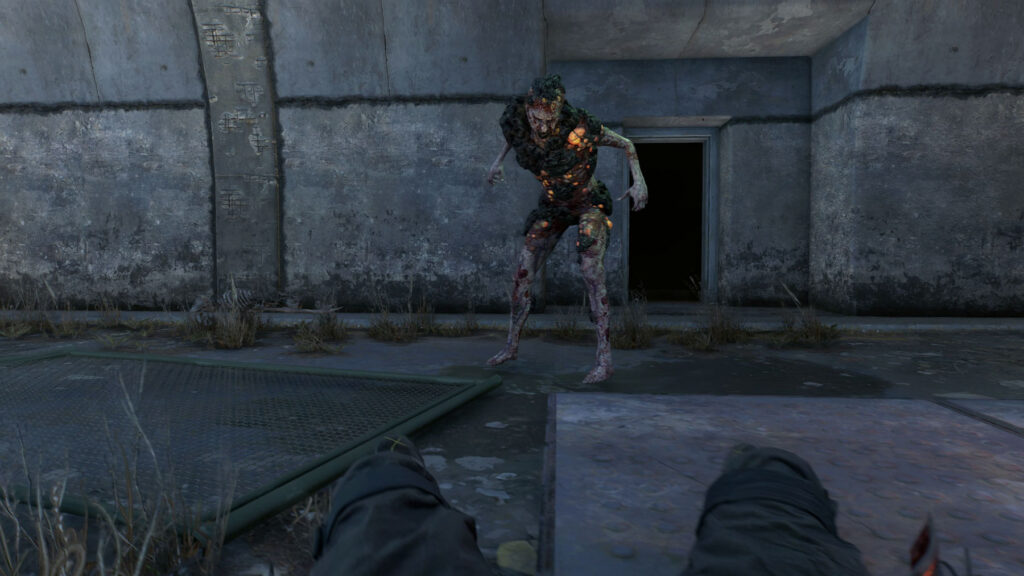 Oh, and the day/night cycle as it pertains to stealth? Yet another "Eh". Sure, there's usually a veritable crap-ton of undead inside during the day, but there's still plenty at night to keep you busy, and all you're really going to be hunting is those GRE containers needed to level up.. And you'll frequently have to go in blind, because I can't tell you how many times my flashlight alerted a patrolling enemy.
Skills themselves are rather limited when it comes to stealth, too.. There is a stabby takedown (aside from the choking takedown that is default) that allows you to dispatch foes quicker and with less noise. There's also a "chain assassination" type skill that supposedly lets you eliminate another foe within range after performing a takedown, but I literally was NEVER able to trigger it.. Not that it would honestly be that useful, because there was only a handful of areas I could handle stealthily, and even then enemies rarely justified wasting the throwing knife (which you can't recover).
Ranged combat does improve things a bit, though.. Especially if you acquire a high level bow early. In those cases, along with the extra piercing damage skill, you can rip apart a lot of foes quickly and quietly from a distance. It doesn't quite have the detail of something like modern Assassin's Creed or Horizon Zero Dawn's archery, but after about 12 hours of forced melee combat you just absolutely begin to salivate at the opportunities to make use of a bow, no matter how limited it is.
Should you play Dying Light 2?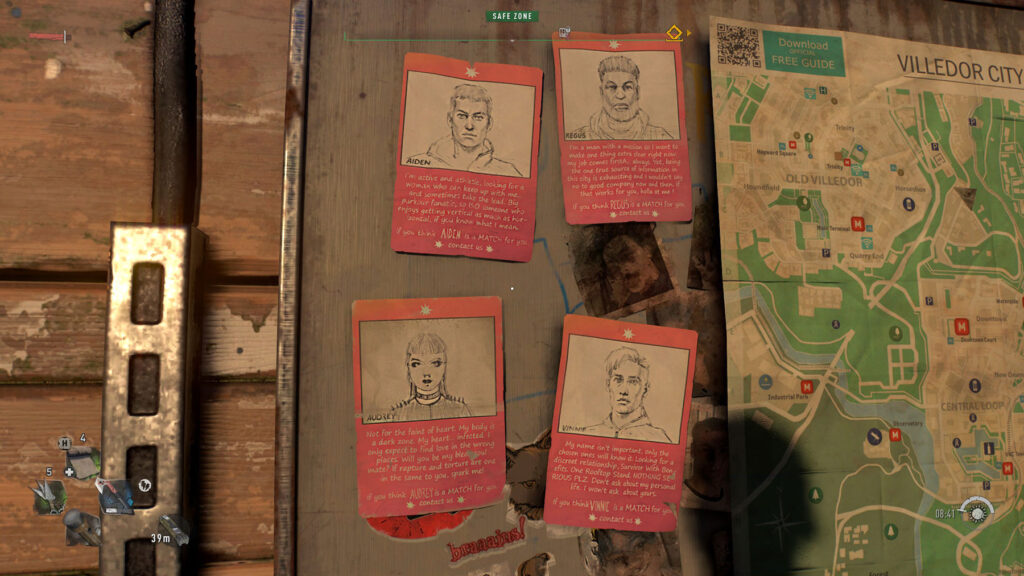 Ultimately, it all depends on what you want out of the game. If you enjoyed Dying Light 1, definitely. Dying Light 2 is an exceptional sequel to a well-loved game, and despite the slower pacing and overhyped mechanics, it's still a good game overall.
If you're looking for a game where you get to make all sorts of choices – and not just in the world itself – hard pass. This is not a game where you can play the way you want, and build out a unique playstyle. No, you'll be doing pretty much the same thing everybody else is doing.. Parkour, smacking enemies with weapons, and exploring the world. It's a formula that works for Dying Light fans, but is not enough to really draw in people who are looking to play a game the way THEY want to. Despite the RPG mechanics, this really isn't much of an RPG.
This has to be the weirdest review I've ever done. At some points, I despised the game.. And then I'd be eating dinner, working or watching TV and thinking "I want to hop in and play Dying Light 2". Even my own review notes are an expression of split personalities; on one page I'm griping about bugs, and on another I muse "Eh, it's got less bugs than a Bethesda game launch".
If the game hadn't been promoted as having full player agency so you can do things how you want, when you want, the way you want, I'd imagine reviews would be much more positive.. And I wouldn't have preordered it myself. The impact of player choice itself is more a slap of a newspaper on the hand than a smack with a stop sign across the face, and I feel like the marketing oversold itself almost to a point not dissimilar from Cyberpunk 2077.
If you're looking for a modern open world zombie game, grab it. It's fun, as long as you're patient as you slog through the main story to unlock all the mechanics of the game.
Now, if you'll excuse me, I'm going to go back to waiting for Elden Ring, and hope it holds up to the hype.