Far Cry 6 is a title I begrudgingly picked up to review.
Not because I didn't want to play it.. But because Ubisoft has taken pains to alienate fans and reduce their efforts to create as much sameness as possible in games.
I opted to not preorder, at least. I doubt that'll be enough, but hey, I run a gaming news site and can write all sorts of fun criticisms like I noted above.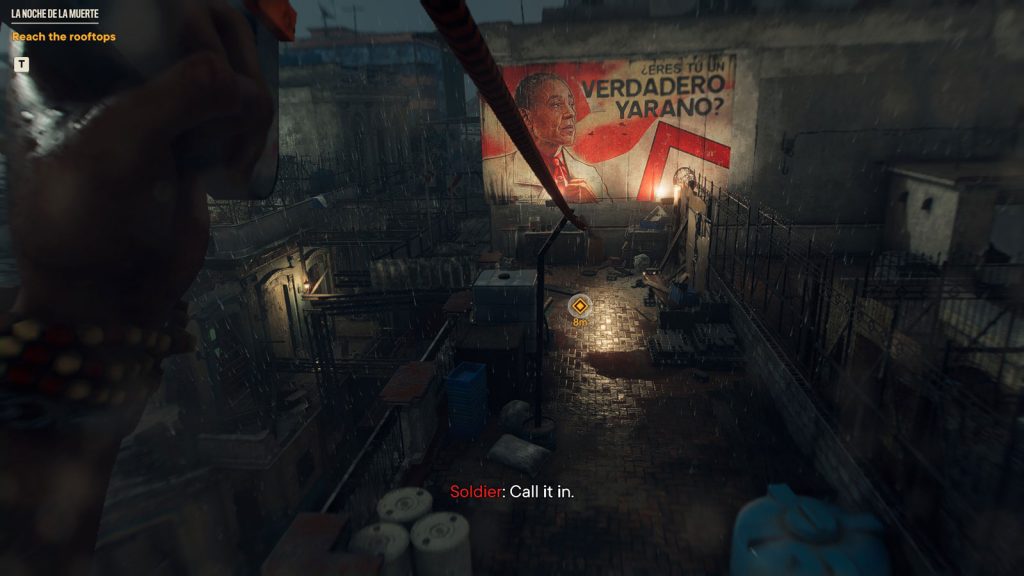 After over 10 hours, though, I have to say.. Far Cry 6 isn't all bad.
It's definitely an improvement over Far Cry 5: Although you do still have to deal with random encounters all over the place, you can avoid most of them pretty easily. Traversal is much more varied. Stealth is an exceptionally solid (if not easy) method of play.
The bugs, however, seem to have become the boilerplate standard too.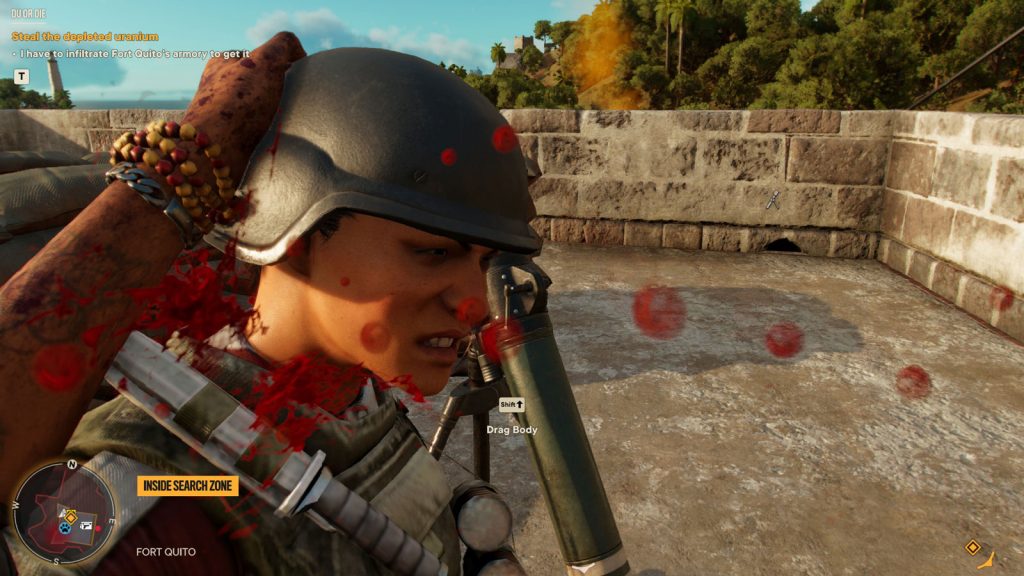 The first one I noticed was the low-res textures that kept coming up. At first it seemed to gamers that this was tied to the HD texture pack (which supposedly requires 11GB of VRAM, insanely enough), but I experienced bad textures even without it.
Then user preferences wouldn't save after the initial configuration (thankfully all I have to do is set aiming to toggle every time I launch the game).
And then I see this guy who apparently needs to visit a chiropractor..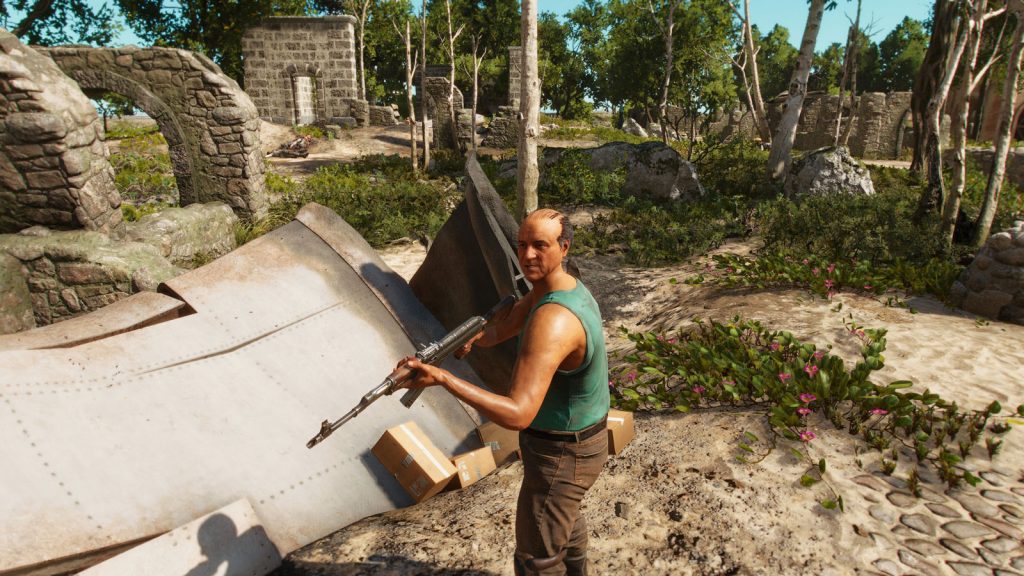 Besides the bugs, the game just have a massive amount of things to do. Honestly, I haven't even touched the main story after leaving the tutorial island and opening up all the main locations to travel to.
Actually, I've spent a good chunk of time doing the many generic missions and the Los Bandidos minigame.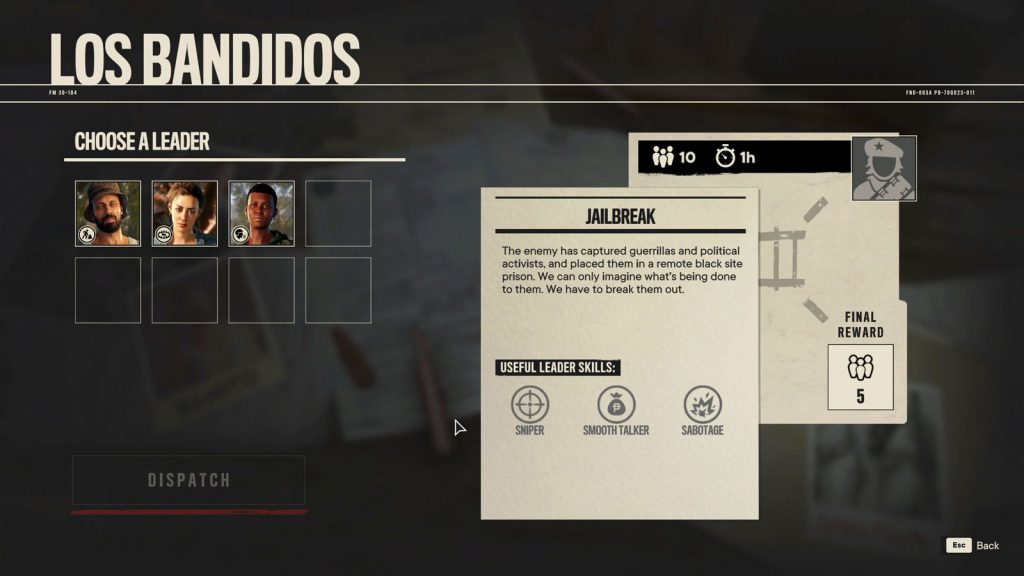 The Los Bandidos is a mini-game that isn't entirely unlike management mobile games (such as Fallout Shelter) where you can send special characters out to complete missions to net you rewards. After the mission time passes (in real world time) you then make a few decisions as to how they handle the mission, which has percentages of success based on a variety of things, as well as requirements. Each decision also offers rewards, from additional money/resources to increasing success on the next step.
If you're wondering if I'm going to talk about the.. Other.. more controversial.. mini game, I will. Not right now, though. I will note that I haven't played it, but I have seen it played.
The weapon customization mechanics are interesting, but I later find myself really questioning why I can't change ammo-types mid-way through.
Also, the bow is almost useless here in my opinion. Stealth weapons are numerous: In fact, nearly any rifle you pick up can fit a suppressor that'll make you whisper quiet even when you're just a few meters away from a foe, and you get that before you even leave the tutorial island.
Anyway, I'll keep playing and managing my bandidos. I'll probably be live-streaming FC6 this weekend so you can see how it plays out live before I put together my review.
Of course, that means I really should tackle the story missions, but.. Maybe I'll start those tomorrow.
Maybe.
(Also: as a handicapped person I love Chorizo so much)