It should surprise no one that Ubisoft is doing something special for Ghost Recon in the form of a livestream event. October 5th at 10 AM PDT (12 PM CST) you'll want to watch the stream for a bit of nostalgia on the Ghost Recon series, a behind-the-scenes live bit on Breakpoint, and an update on a new "Ghost Recon Project".
You'll also apparently be able to get a couple special gifts (presumably in-game items such as cosmetics) by watching the stream, as is the standard practice in Ubisoft live streams.
Here's the teaser tweeted out by Ubisoft: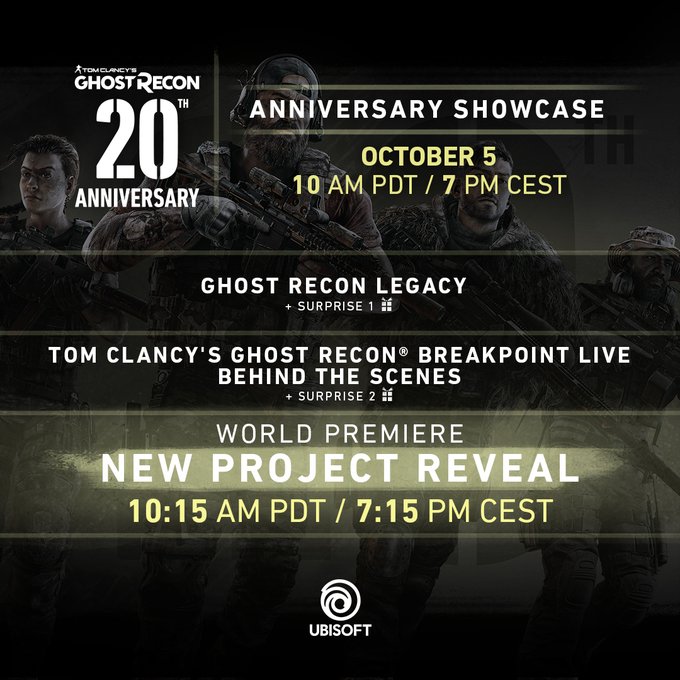 If you read GGN at all, it should come at no surprise that we're seeing an update on a "new project": This most likely is a new game announcement. I wasn't sure it would be announced this early, but it would fit in with my projected timeline.
The big question is this: Is this going to be a full-scope game, or something small to keep the series alive (such as a mobile game) until they are ready for a "real" new game?
We also have to consider the direction Assassin's Creed is taking with it's "Infinity" project: A major shift in production style to a "live service".
I could be completely wrong, however, and the new project is actually just a clumsy way of over-hyping the Motherland DLC.
Guess we'll have to watch Oct. 5 to find out.