Hey all! I'm still fighting off COVID-19, so please excuse typos or weird segues..
Ground Branch has been flying under the radar for a while now while we waited on the next big update.. And yesterday it finally arrived.
v1033 has a massive amount of new stuff to pour over, so if you want the full scoop read the Steam post, as I'm going to focus on 2 things here that should interest GGN readers.
Night ops are finally practical in Ground Branch
Doing night missions in Ground Branch was less than ideal just because lighting had zero impact in visiblity when it came to fighting AI.
v1033 changes that: AI will have severely limited visibility at night, which means you should grab your NVGs and an IR illuminator and get to stealthily taking on missions at night.
The update also notes that flashlights are extremely visible to the AI, so you definitely want to exercise light discipline at night.
This update has been a much-wishlisted feature for many fans of stealth and tactical games, so if you've been waiting to pick up Ground Branch until it had some form of stealth, this is your time to buy.
More scopes and weapons for marksmen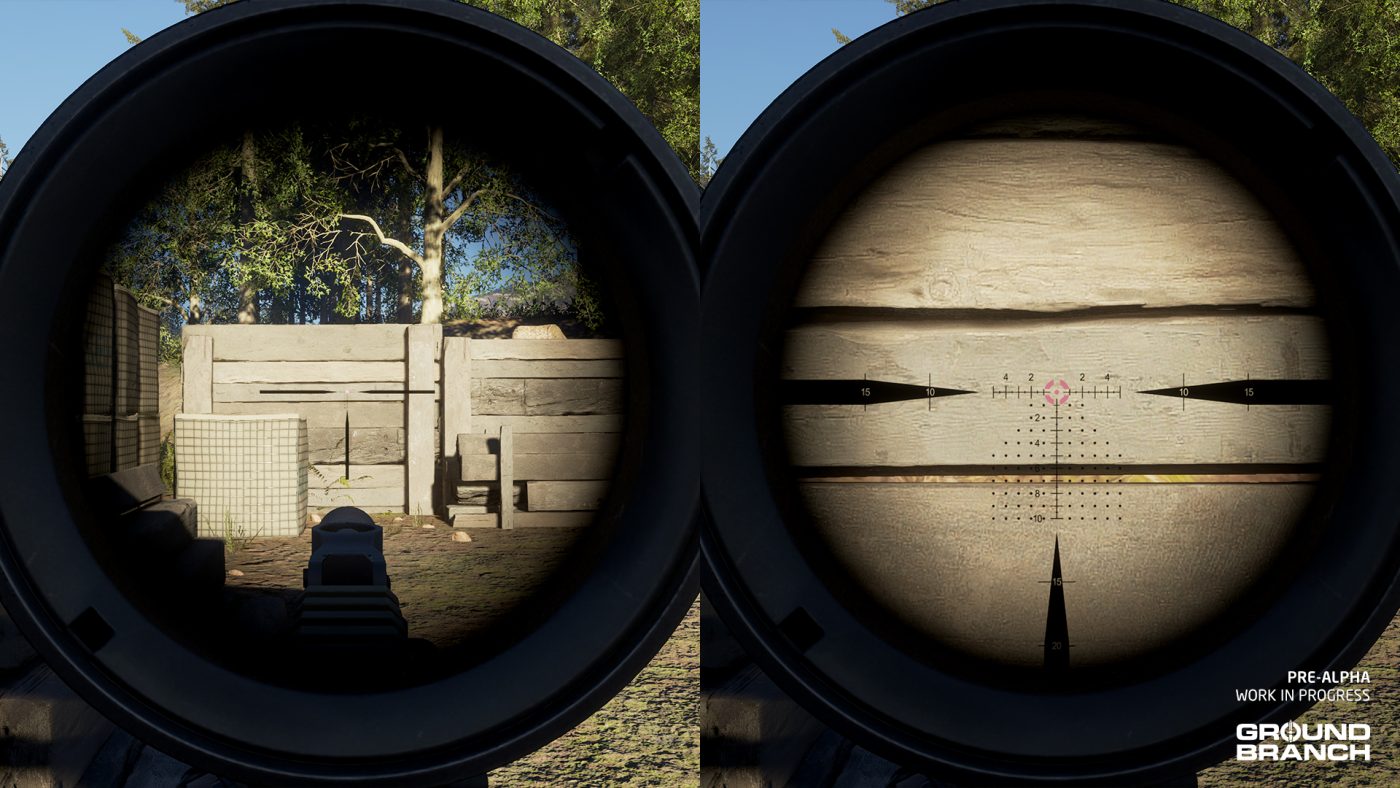 Numerous weapons have been added in this update, including new scopes.
The above screenshot showcases an LPVO (low-power variable optic) at 1x zoom and 8x zoom; this is a FFP (first-focal-plane) optic with a classic Christmas tree reticle (that is my personal favorite as a precision shooting nerd).
Now, it should be noted that horizontal markings aren't currently useful, as windage is not a factor that has to be dealt with (yet). Additionally, the ranges you engage at tend to be relatively limited, so rather than playing a sniper you're moreso focusing on designated marksman territory.. But there are few games that truly offer sniper-focused ranges in modern settings (the Arma series, as well as Sniper Ghost Warrior Contracts 2).
Anyway, we also get to play with the M24 and MK17 DMR in this update (along side a number of other new weapons, as well as updated models), so fans of either of those should be happy.
Keep an eye on Ground Branch; this looks to be a good stop-gap game to play for fans of the Ghost Recon series who prefer a more plausible tactical experience.