Update: The new DLC, Concealed Target Weapon & Skin Pack, is out now. This includes a ghillie skin for Karl, a rather awful-looking (yet it really existed) weapon skin, and the HS.22 pistol. The original post is below.
Rebellion has decided to drop a not entirely subtle hint that we're about to get the next DLC for Sniper Elite 5.
-. . .– / .. -. – . .-.. –..– / … ..- .–. .–. .-.. -.– / -.-. .- -.-. …. . / .. -. -… — ..- -. -.. pic.twitter.com/961lEZDAsM

— Sniper Elite (@SniperElite) September 12, 2022
When translated, that morse code states "NEW INTEL, SUPPLY CACHE INBOUND".
If that's not a hint for DLC, I'll be really surprised.
According to the content roadmap this DLC will include a new weapon, some weapon skins, and a character skin.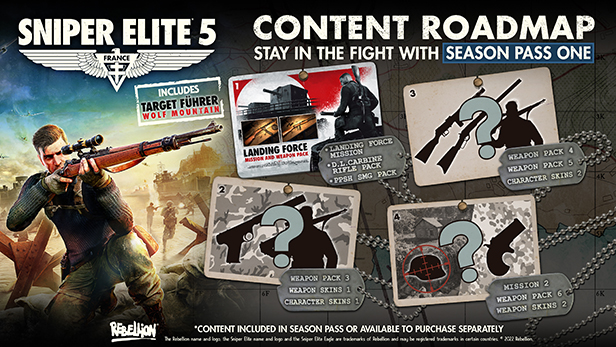 Taking a look at the #2 card we can see a pistol, some camo, and a character silhouette, which means no new rifle assuming they stick to the same release style as they did with the first DLC.
We will see a new secondary weapon, a new rifle and another character skin in the 3rd DLC release, and a new mission, weapon (a derringer-style pistol) and weapon skins in the 4th.
Season pass owners will automatically unlock these once released; we don't have a fixed date yet, but "soon" would be clear based on the tweet.